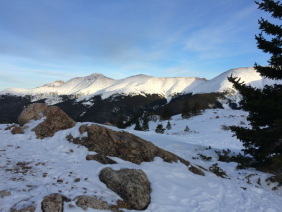 Listen: "to pay attention to someone or something in order to hear what is being said, sung, played, etc."
-Merriam-Webster dictionary
What is the best way to begin a new year?
I am sure there are many variations in answers, but for me the answer: a hut trip.
After the craziness of the holidays, to put my skins on my skis and trek into the Colorado backcountry is perfection.
It is welcome renewal.
It is the perfect way to begin a brand new year.
The first day of the trip was a sunny day, no weather predicted for days, the trek in was a short (albeit very steep) distance that was well marked.
We had a few small groups who left at varying times.
I was with one other and we made the trek in a slow and steady manner, stopping periodically to take in the magnificent views and to listen to…the silence.
Silence.
Listening to silence.
It is beautiful.
It is hard to find.
It is remarkable.
It is important.
As I sat listening to the quiet mountain air, it occurred to me how important it is to truly listen.
It is important in the silence, it is important in the havoc of a business work day and it is important at the family dinner table.
Listening is important.
As the new year unfolds, a few thoughts on listening:
Listening is a skill that most everyone can improve upon.


Listening to the customer is one of the most important things a business can do.



A silent customer is worth listening to.


Listening to a customer with a complaint can assist in converting that customer to an advocate.



The art of listening is something I hope to improve upon during 2016 ~ in every aspect of my life.


In closing, two quotes:
"The word listen contains the same letters as the word silent".
~ Alfred Brendel
"Courage is what it takes to stand up and speak.
Courage is also what it takes to sit down and listen." ~
Winston Churchill